---
Visiting Binh Dinh Province, Vietnam
Provincial leaders headed by People's Committee Chairman of the People's Committee Ho Quoc Dung and Standing Vice Chairman Phan Cao Thang and leaders of relevant departments and localities on July 19 met in Binh Dinh with a delegation of Becamex IDC led by its Deputy General Director Pham Ngoc Thuan and including international marketing experts from the US, Canada, Europe, Japan, Korea, Taiwan, Thailand and Greater China to seek investment opportunities in Binh Dinh.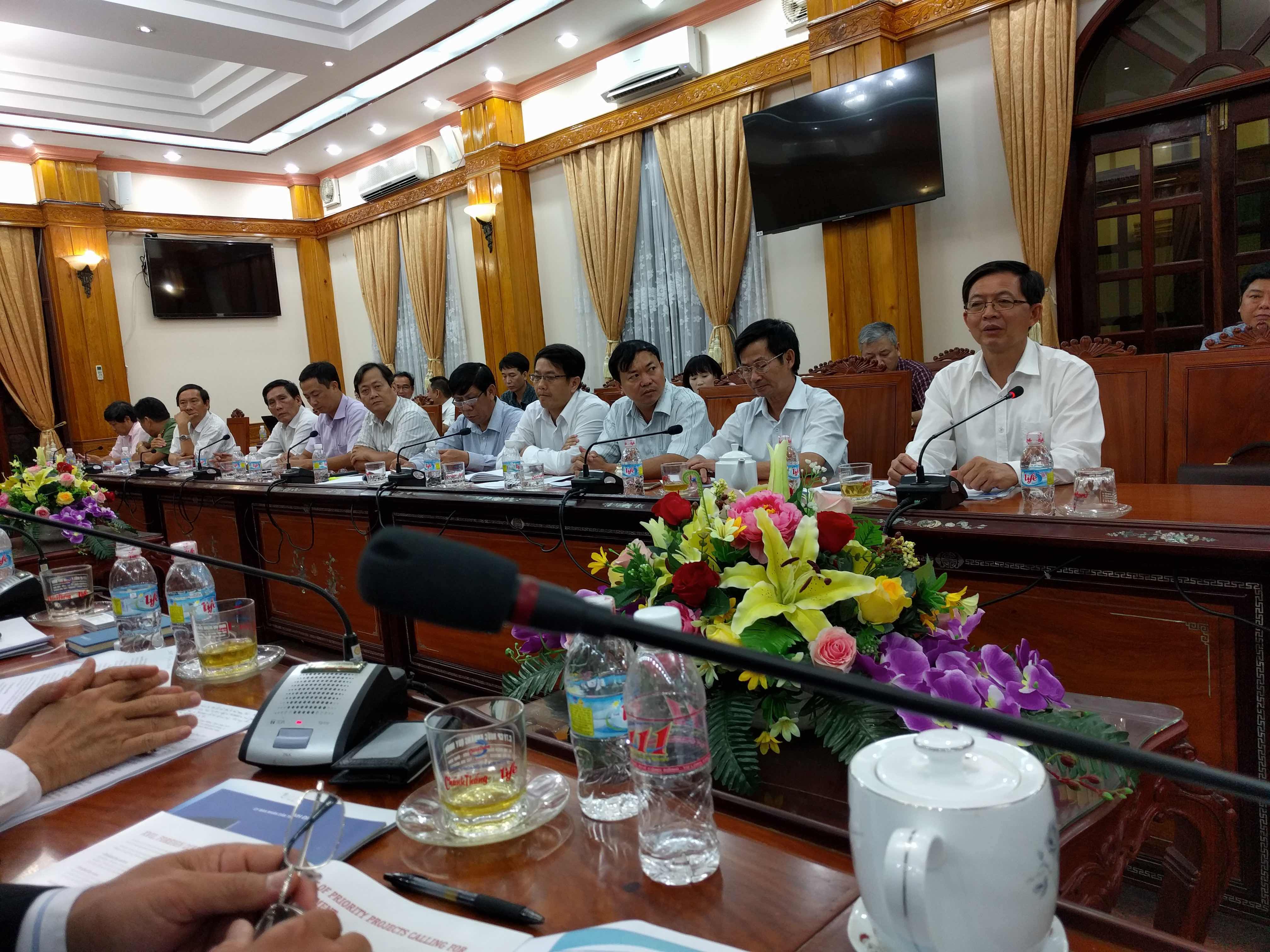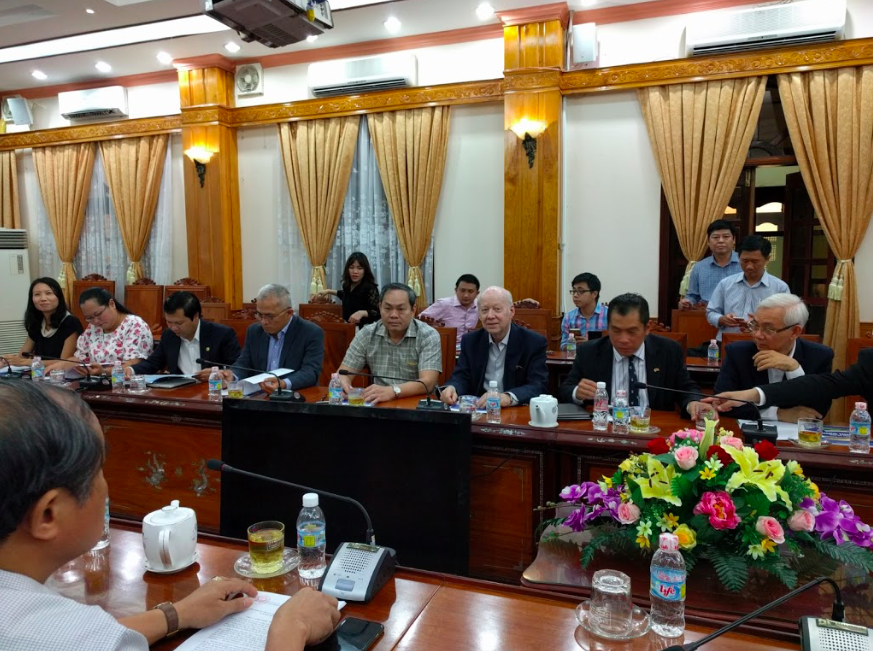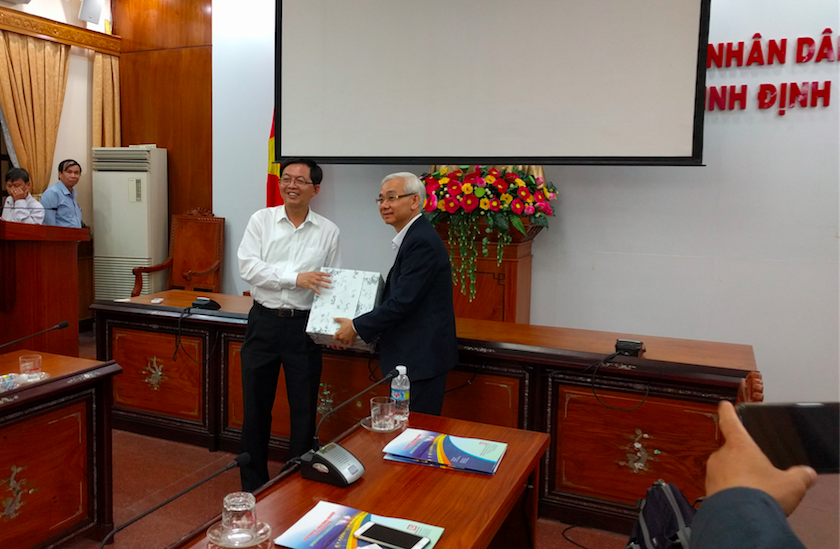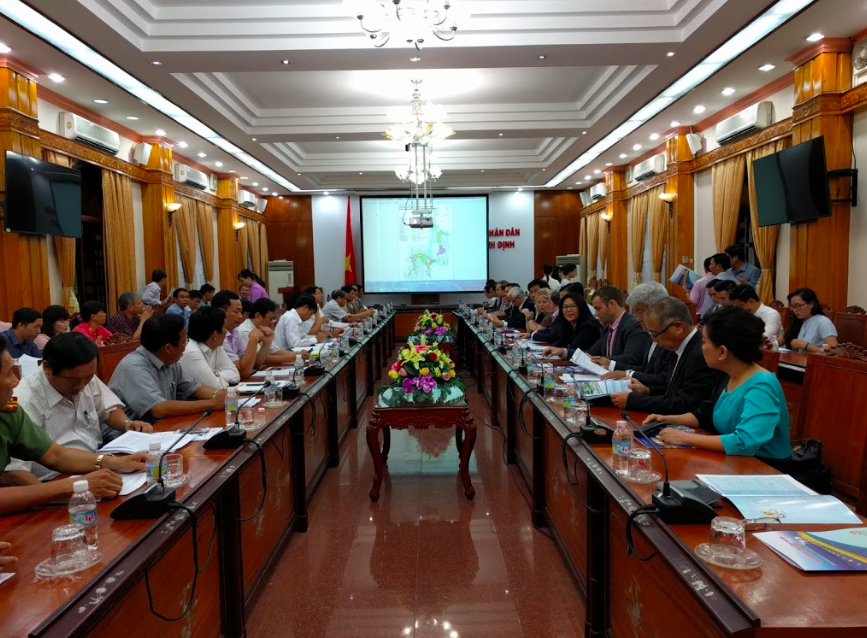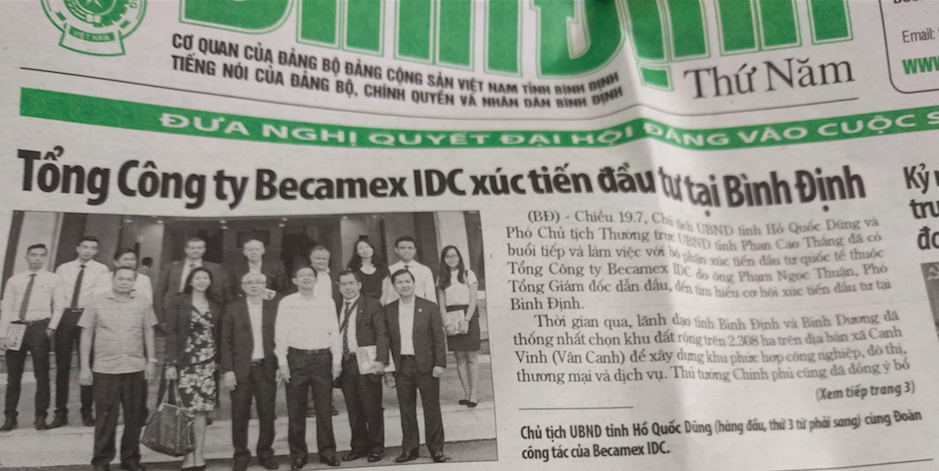 The Chairman of Binh Dinh provincial People' Committee Ho Quoc Dung takes a photo with a portion of Becamex IDC delegation.(the others meeting with Binh Dinh Authorities).
Binh Dinh is a costal province in the South Central area of Vietnam.  It is 1,065 km south of Hanoi and 686 km north of Ho Chi Minh City.  With an area of 6,025 square kilometers and a population of 1.5 million with more than 55% being within working age, Binh Dinh has its capital at Qui Nhon.
The province has good infrastructure with national roads 1A, 1D, 19 and many provincial and local routes.  Qui Nhon has a large port that handles ships up to 70,000 tons, a long stretch of the national railway and Phu Cat International airport which should soon have flights to Korea and later possibly to Thailand.  Additional airlines serving Phu Cat airport include Vietnam Airlines, Viet Jet, and Jetstar Pacific Airline.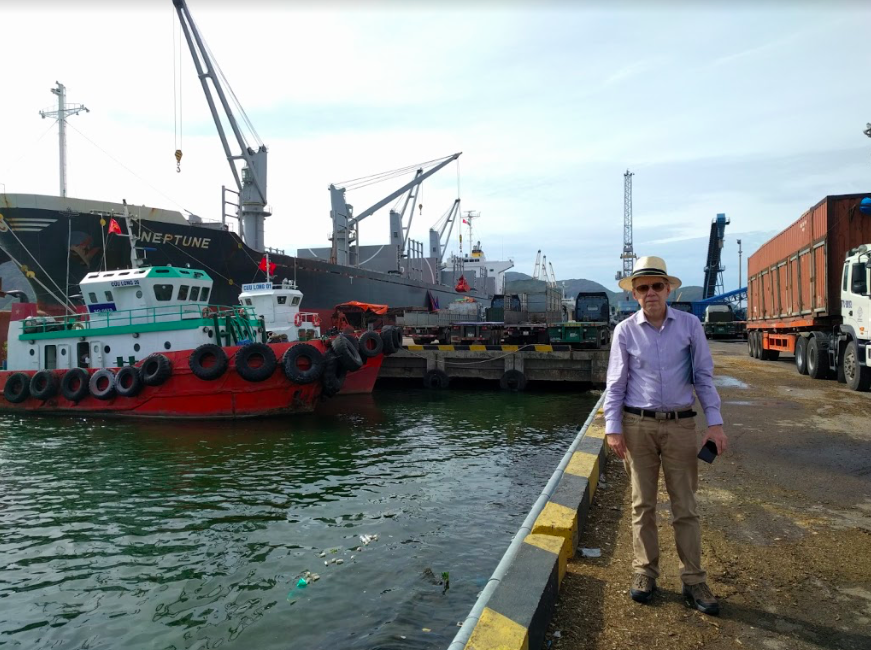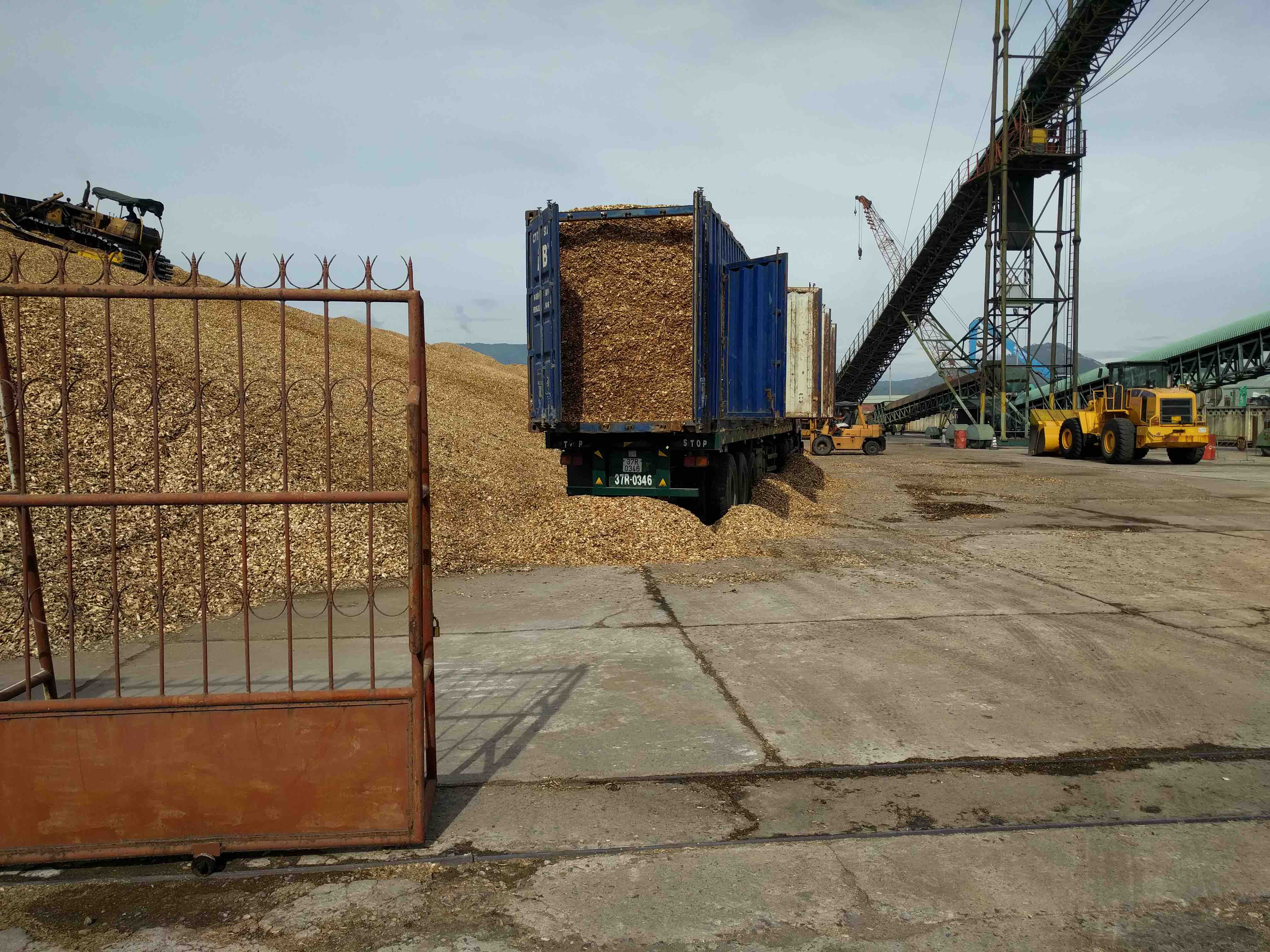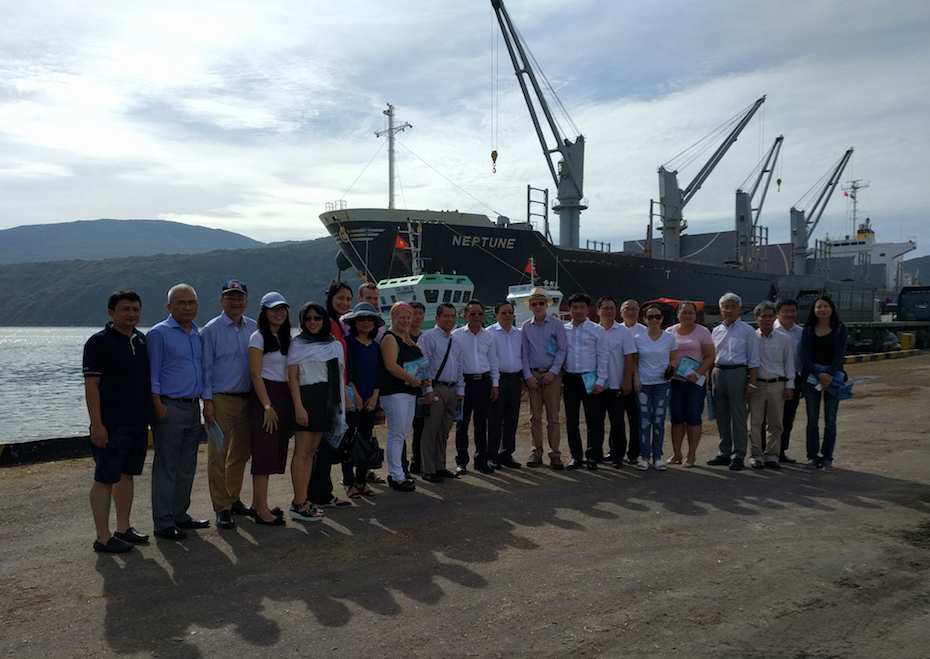 The province has Quy Nhon Multi-Disciplinary University with more than 15,000 students and Quang Trung Private University plus the International Center for Interdisciplinary Scientific Meeting, Binh Dinh College, Quy Nhon Vocational Training College, the Central Region Vocational College, the Medical College and several vocational training schools and education centers.  The province economy is 37% industry, 26% agriculture and 36% services.  Major exports are wooden furniture, wood chips, agriculture and forestry products, seafood and aquaculture products, mineral products (granite and titanium), consumer goods (garments and footwear), pharmaceutical products, handicrafts and fine art products.
At present, there are five industrial zones in Binh Dinh which include Phu Tai, Long My and Nhon Hoa IZs which are fully occupied.  Nhon Hoa IZ is almost full and Binh Nghi , Hoa Hoi and Cat Trinh IZs are calling for investment.
At the meeting, the Chairman briefed the group on the province's socio-economic situation and investment incentive policies and the provinces investment attractions results to the current point.  He said the Prime Minister has decided to add the industrial complex, trade and services in Canh Vinh commune, Van Canh district with a total land area of 2,308 hectares in Nhon Hoi Economic Zone, bringing total area up
to about 14,308 hectares which will enjoy the highest preferential policies of the State for investors when investing there. He additionally reported the province is focusing on speeding up the construction of traffic infrastructure linking the road from Van Canh to Quy Nhon to create a very convenient transport network in the circulation of goods from Becamex industrial park to be located there to Quy Nhon International Port.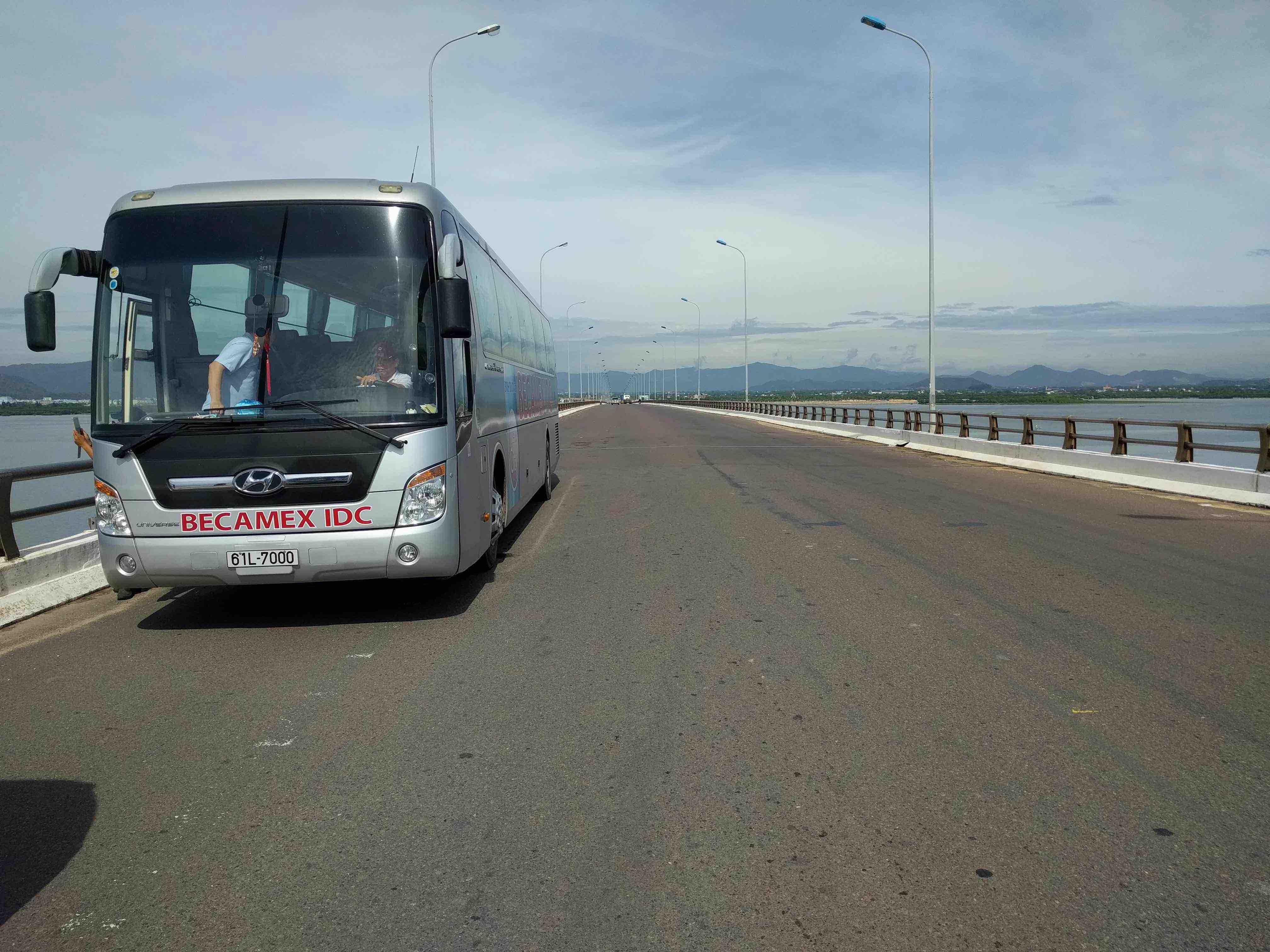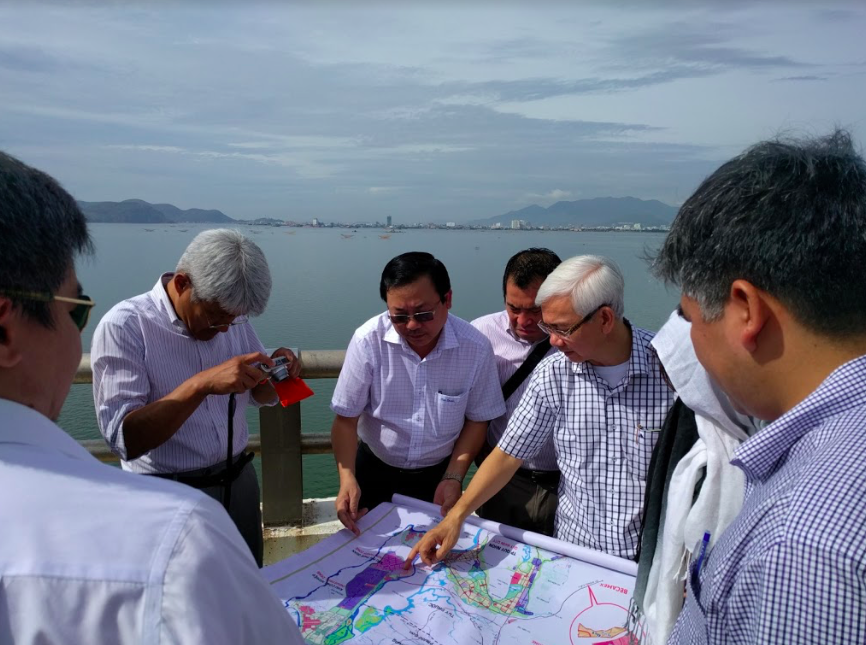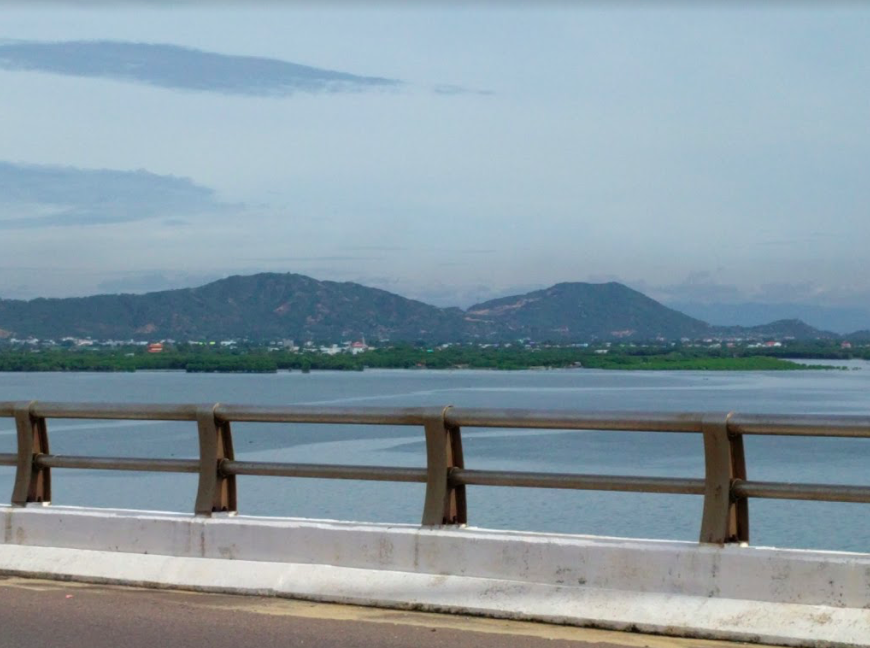 Chairman Ho Quoc Dung noted his appreciation of Becamex visit and was impressed with Becamex international marketing team which included two or more members from most of the major countries of interest to Binh Dinh.  Through July, 2017 Binh Dinh has attracted nearly 50 investment projects.  These include 40 domestic projects and seven foreign projects with a total investment capital of US$514 million.  The investors discussed issues such as land, natural resource, environment, transportation infrastructure, labor resource, port and airport facilities and the tax incentive policy.  He concluded that he and provincial officials were all committed to creating the most favorable conditions to accelerate the project of Becamex Industrial Park – Urban and Service in Binh Dinh and will always support and nurture investors doing business in Binh Dinh.
Becamex has long been in discussions with Binh Dinh authorities and in 2016 Becamex created Binh Dinh Industrial, Urban and Service Zone invested by Becamex Corporation (Becamex IDC Corporation) with a loaction at Canh Vinh commune, Van Canh district, Binh Dinh province.  This zone has an area of approximately 2,308 hectares and implementation is divided into two phases as follows:
– Phase I : Commenced in 2016, in an area of about 1,425 hectares: including an industrial area of 1,000 hectares, an urban area of 425 hectares and an estimated investment of approximately 5,000 billion VND.
– Phase II : Expected to be implemented in 2018, covering an area of approximately 883 hectares, including commercial land, services, land for resettlement, health, education, public parks and greenery. Estimated investment: 4,000 billion VND.
2. Development Objective as set out in the plan include the following:
– To build Becamex-Binh Dinh Industrial, Urban and Service Zone into a comprehensive center for industrial, urban and service development in a dynamic and efficient manner with a favorable and feasible investment environment. Create high competitiveness in the region, acting as a driving force for economic development – and betterment of society of Binh Dinh province.
– To make optimal use of the natural conditions and geographic location for the construction of Becamex Industrial Park, Urban and Service Zone, which connects Nhon Hoi EZ to become a hub for trade and transit of goods and commercial services to the South Central Coast and the Central Highlands, effectively connecting with neighboring international markets.
– By 2020, Becamex – Binh Dinh Industrial, Urban and Service Zone will have a modern and synchronous infrastructure (technical and social) in association with environmental protection, sustainable development and cluster formation. This will facilitate  close associate with Nhon Hoi Economic Zone and other industrial parks and economic zones of Binh Dinh province (Quy Nhon city, An Nhon provincial town, Quy Nhon seaport) and neighboring provinces.
– To build a comprehensive urban, commercial and service area and promote the development of regional infrastructure and raise the quality of life of local people.
3. Socio-economic advantages and benefits
Becamex Industrial, Urban and Service Zone is located along National Highway 19C and North-South Highway Plan; 1 km from National Highway 1A, 12 km from Dieu Tri Railway Station; The international port Quy Nhon is 20 km; From Phu Cat airport: 35 Km. It is very convenient for Becamex Industrial Park, Urban and Service Zone to associate with Nhon Hoi Economic Zone to become a hub for trade, transit of goods, services, trade and urban development. It will help expand the exchange of socio-economic development with other regions in the province and in the country and in the world.
Becamex IDC is a well-known investor and has invested in a number of industrial parks in Binh Duong and Binh Phuoc provinces.  Becamex is also the majority shareholder in collaboration with minority shareholder Sembcorp Group (Singgapore) in a number of VSIP industrial, urban and service projects in Bac Ninh, Hai Phong, Quang Ngai, Nghe An and Hai Duong and Binh Duong provinces. The success of Becamex IDC's industrial, urban and service projects has confirmed the investors' capacity, financial strength, development experience and customer service systems.
The project will contribute to promoting the socio-economic development of Binh Dinh in general as well as the development of Nhon Hoi EZ in particular:
– The Becamex development  is expected to attract more than 200 secondary investment projects in the industrial zone with investment capital of 4-5 billion USD, focusing on the following sectors: garment, food, wood industry, fine art stone , animal feed, seafood processing, low polluting technologies …, operating in the fields of high technology and environmentally friendly industries.  At the same time, it will develop a quality urban area, trade in services, with a modern synchronous infrastructure and a full range of utilities and services including schools, hospitals and commercial centers.
– It is expected to create jobs for about 100,000 laborers, of which the number of laborers working in the industrial zone is 70,000 and in the urban area is 30,000.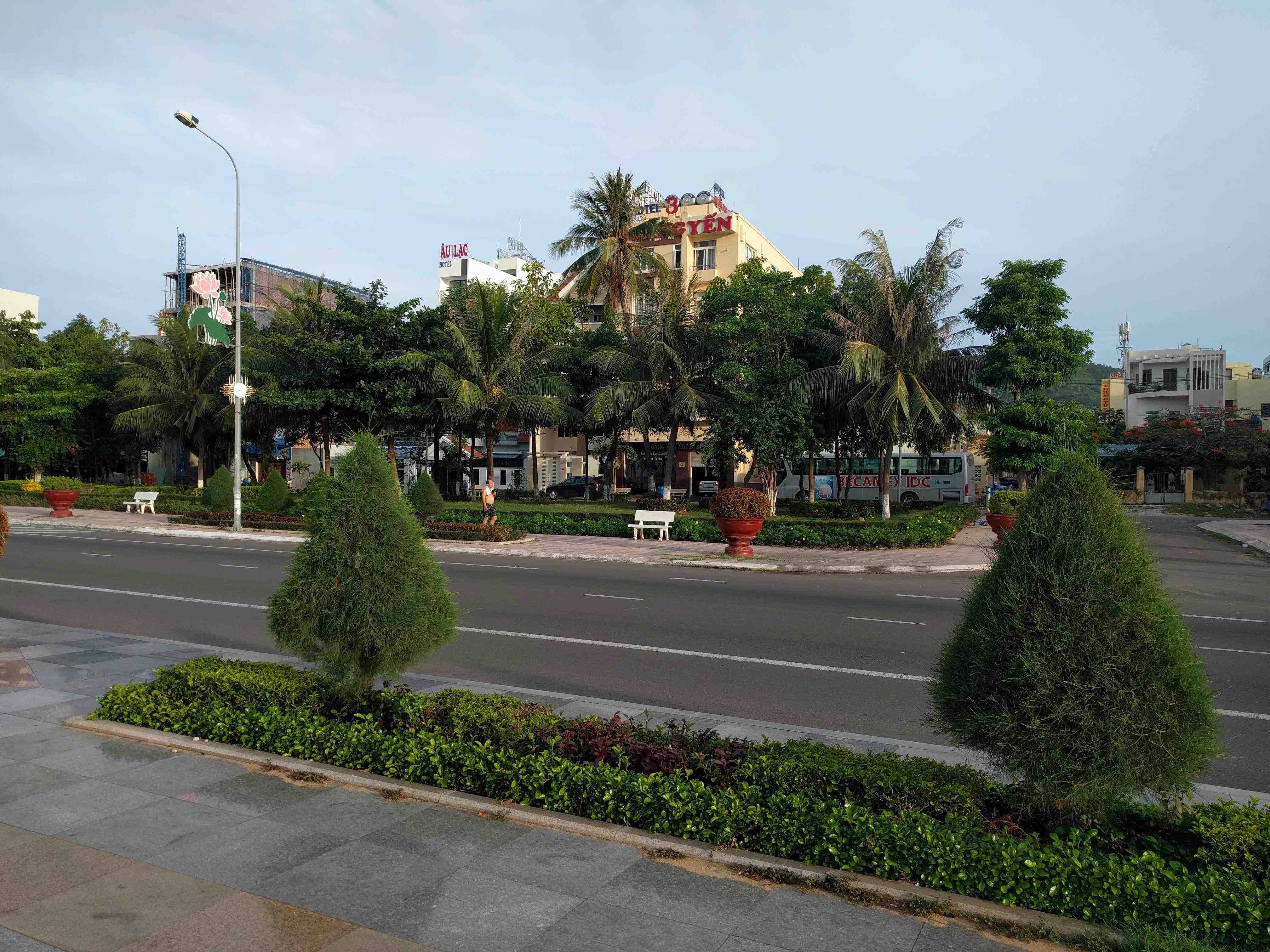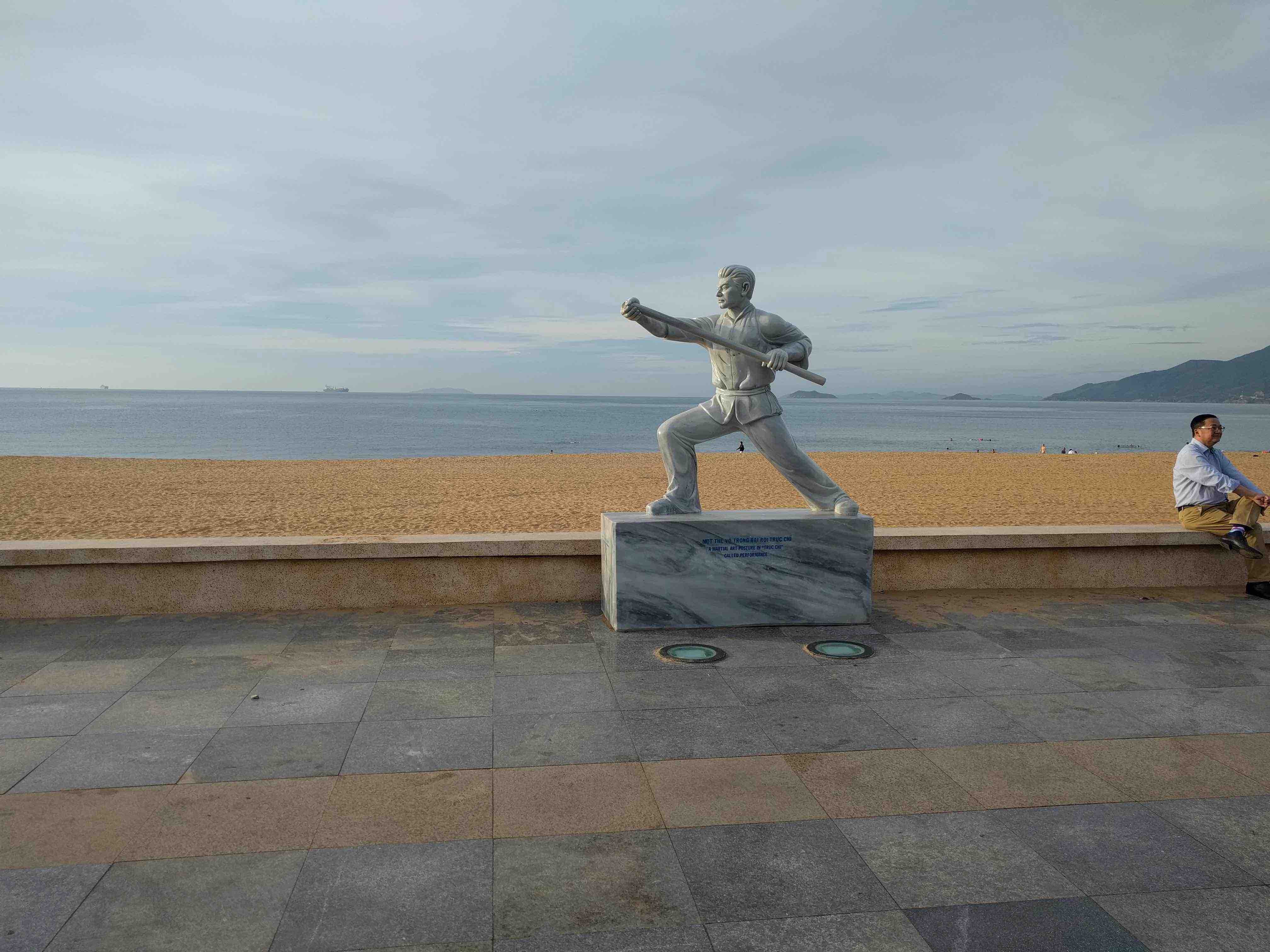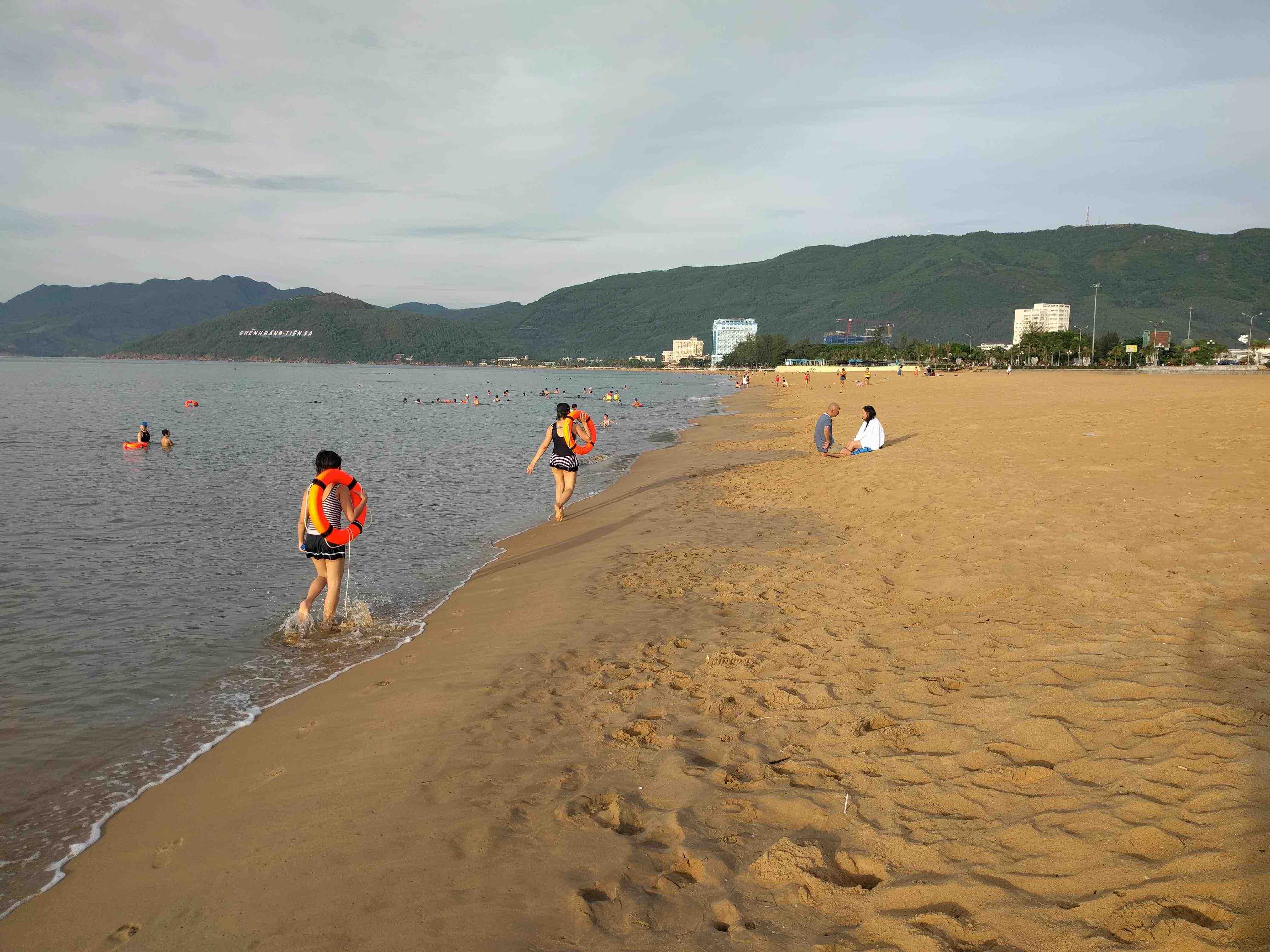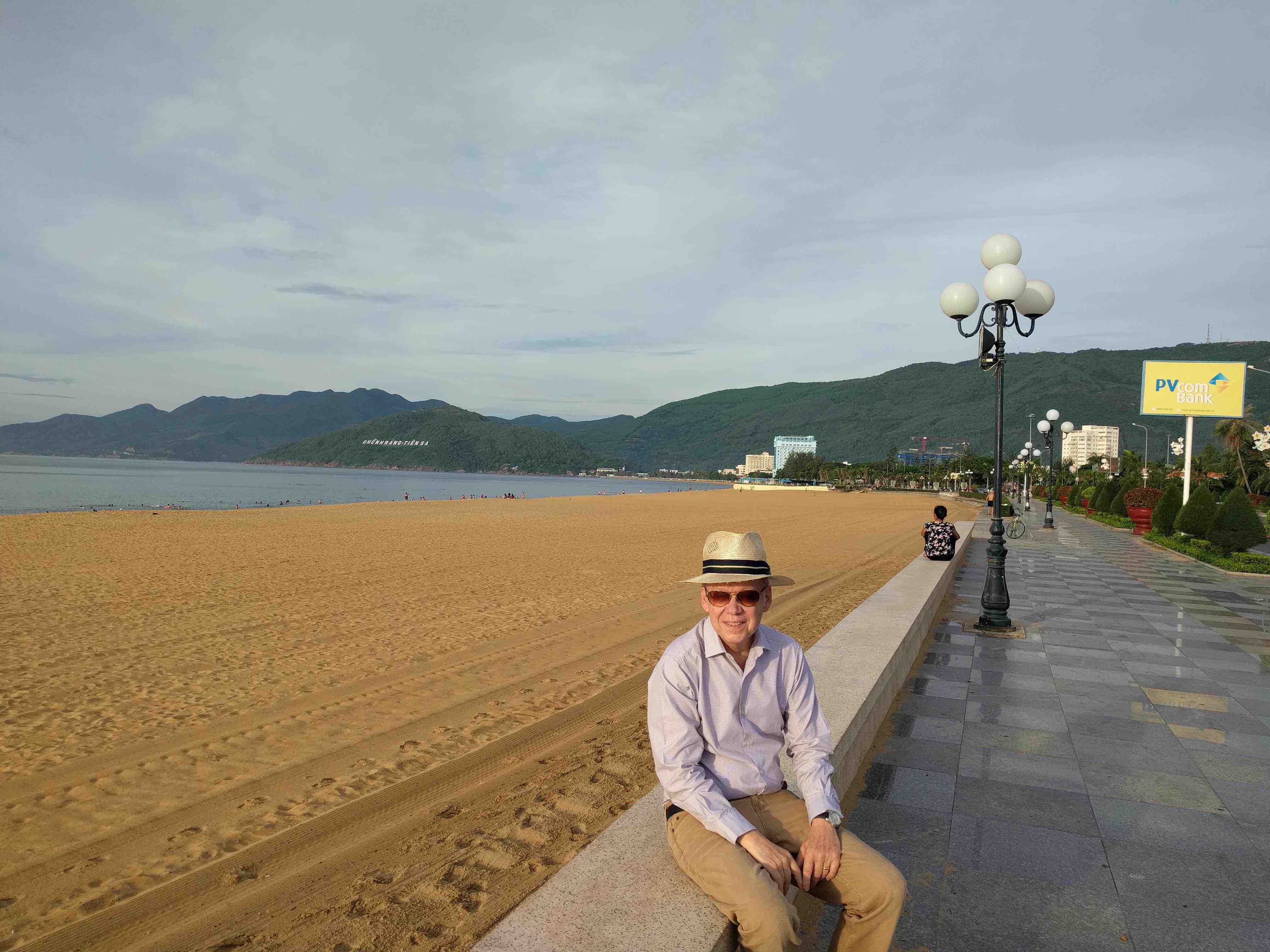 ---
About the Author:  

Christopher W. Runckel, a former senior US diplomat who served in many counties in Asia, is a graduate of the University of Oregon and Lewis and Clark Law School. He served as Deputy General Counsel of President Gerald Ford's Presidential Clemency Board. Mr. Runckel is the principal and founder of Runckel & Associates, a Portland, Oregon based consulting company that assists businesses expand business opportunities in Asia. (www.business-in-asia.com)

Until April of 1999, Mr. Runckel was Minister-Counselor of the US Embassy in Beijing, China. Mr. Runckel lived and worked in Thailand for over six years. He was the first permanently assigned U.S. diplomat to return to Vietnam after the Vietnam War. In 1997, Mr. Runckel was awarded the U.S. Department of States highest award for service, the Distinguished Honor Award, for his contribution to improving U.S.-Vietnam relations.
SaveSave
SaveSave
SaveSave
SaveSave
SaveSave