The interesting thing about innovation is that often it doesn't come from the places you might expect. Oftentimes it is not big business or big government that comes up with a good idea and then has the willingness and dedication to break new ground. Sometimes it is the little business or organization that comes up with a good idea and then sees it implemented ahead of its major rivals.
The new Cambodian e-visa
(
http://evisa.mfaic.gov.kh/
) is an example of this. Whereas Vietnam and China are still requiring that travelers either visit or send their passport to the country's Embassy or Consulate and pay a sizeable fee or go through a relatively long wait at arrival to get a visa-on-arrival, again at a higher cost, Cambodia's new e-visa allows you a totally separate experience. You apply for a visa without the hassle of sending your passport anywhere and have your visa back in a usual time of 4-6 hours based on the experience of a recent group of twenty-five travelers that Runckel & Associates recently took to Thailand, Cambodia, Vietnam and China. Also, payment is by Pay Pal or Credit card and payment is encrypted and protected. Finally at $25, the fee is half the fee in Vietnam or China. Though not as easy for most travelers as Thailand's visa waiver program, it is a very good innovation that should receive everyone's commendation.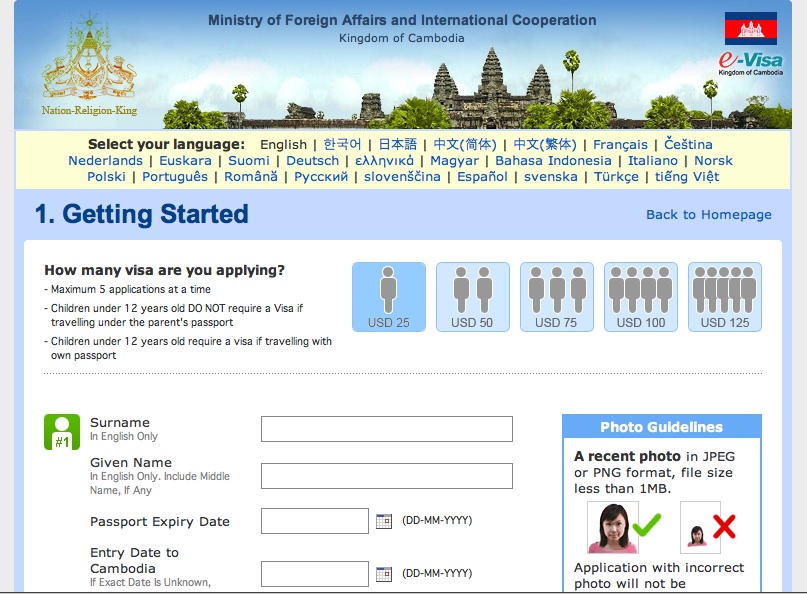 | | |
| --- | --- |
| Mr. John Muller, President of SSA | John Muller, President of Security Services Asia (SSA) www.securityservicesasia.com who has a long history of involvement with Cambodia and heads security and business investigation companies in Thailand and Cambodia is also one of Southeast Asia's foremost experts on Cambodia. He noted recently "For a less densely populated developing country, Cambodia is making major strides in attracting tourists and investors. And the e-visa is just one example. I for one think the current government despite some issues has been the best thing to happen for this country and it's economy. Crime is on the decrease and rule of law on the increase. Five major high-rise buildings are now under construction in Phnom Penh, the capital. A new day is dawning for Cambodia and the world needs to take notice." |
---
About the Author:
Christopher W. Runckel, a former senior US diplomat who served in many counties in Asia, is a graduate of the University of Oregon and Lewis and Clark Law School. He served as Deputy General Counsel of President Gerald Ford's Presidential Clemency Board. Mr. Runckel is the principal and founder of Runckel & Associates, a Portland, Oregon based consulting company that assists businesses expand business opportunities in Asia. (www.business-in-asia.com)
Until April of 1999, Mr. Runckel was Minister-Counselor of the US Embassy in Beijing, China. Mr. Runckel lived and worked in Thailand for over six years. He was the first permanently assigned U.S. diplomat to return to Vietnam after the Vietnam War. In 1997, he was awarded the U.S. Department of States highest award for service, the Distinguished Honor Award, for his contribution to improving U.S.-Vietnam relations. Mr. Runckel is one of only two non-Ambassadors to receive this award in the 200-year history of the U.S. diplomatic service.
---
More of our useful articles: